Classics Story #013
Carmen Kelly
Introducing Los Angeles based jewellery designer Carmen, to our list of Classics Stories.
Drawing influence from the radiant Californian sun and the free-spirited psyche of the city. Her collections embody the vibrancy and energy of the Golden State, each piece starting from an intuitive, free flowing art called automatic drawing.
With an unwavering passion for creating beautiful and thoughtful jewellery, Carmen infuses her pieces with a distinct kind of shape and form. Delicate handcrafted necklaces, earring and soon to release rings, each piece tells a story of Carmen's relationship to the natural world with surreal yet elemental influences.
Photography by lauryn Alvares
Interview by Jake Smith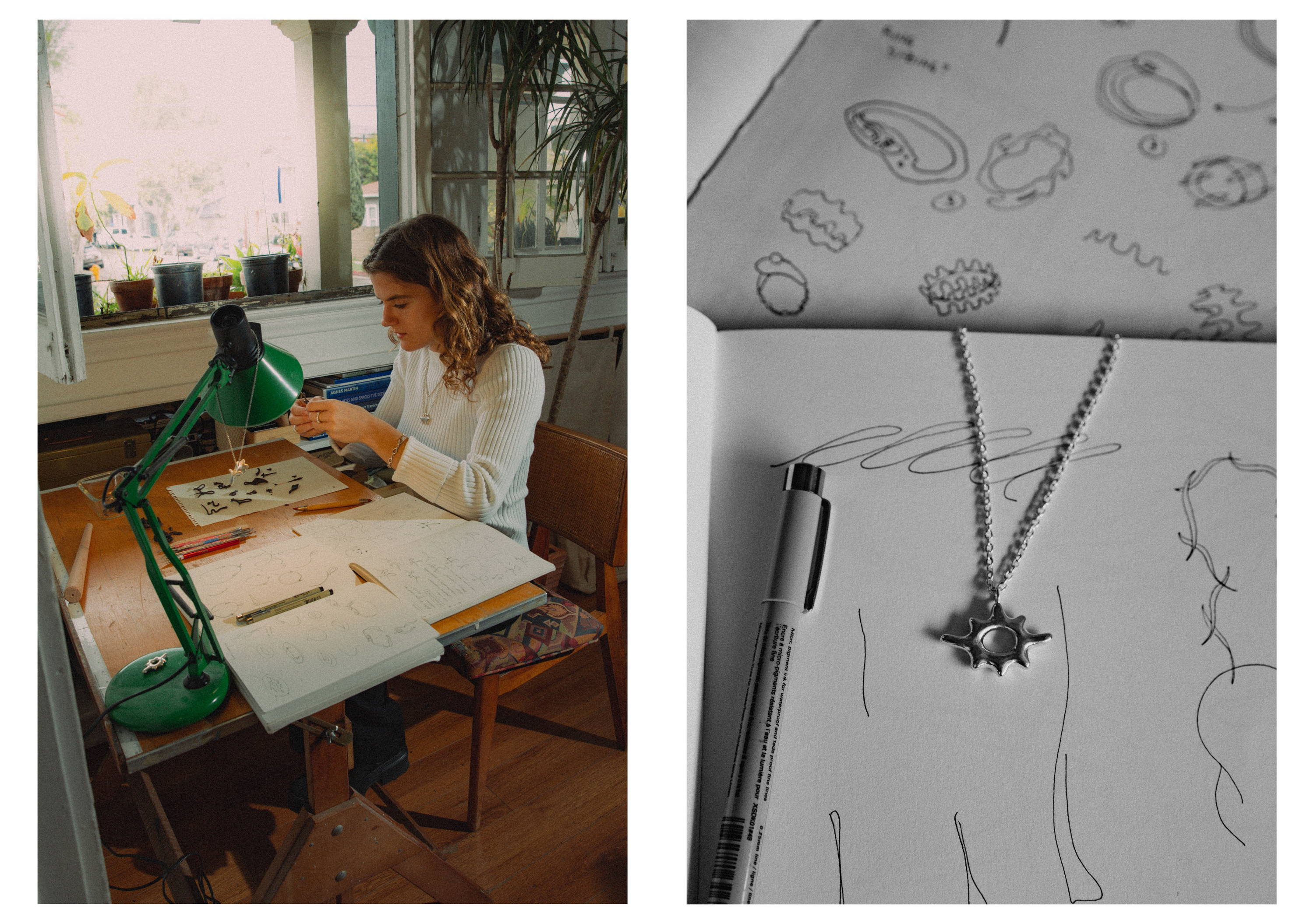 Hi Carmen, thanks for having us today! Tell us a little about yourself, did you grow up in California? How did you end up in LA?
Thank you, it's so lovely to be here. Yes, California born and raised. I grew up in West LA until I went to the Rhode Island School of Design for my undergrad. I loved my time there - Providence is a sweet little town, and I fell in love with the New England coastline, but I always knew I'd be homeward-bound after graduating. Coming back to LA felt right for a few reasons - a lot of important people in my life are still based here, and a fair amount of friends from RISD moved out here as well. I didn't know I'd eventually be designing jewelry full-time when I moved home, but having the Jewelry District in Downtown LA has allowed me to meet the right people and find the right resources that have allowed me to grow and evolve California Dirt since the beginning.
What's your typical day in Venice look like?
Totally depends. An ideal day begins with yoga or a surf if there are waves. I'll normally drive up the coast a bit to one of the nearby point breaks. Work tends to look a bit different day to day. Some days I'm driving to the Jewelry District to source materials or check in with my casting house where my pieces are made. Others I'm working from home, sometimes at a nearby coffee shop. I work independently on California Dirt doing everything from design, marketing, social media, art direction, order fulfillment, etc. My living room serves many functions - dining room, office, studio, distribution center, overall Cali Dirt HQ. A lot happens in here.
Can you give us a little background on California Dirt? Some of the inspiration behind the brand and the name CA dirt?
My interest in jewelry snuck up on me during my last semester of school. Earlier that year I had started practicing automatic drawing, which is an intuitive, therapeutic drawing method where you let the hand flows freely. Through this process I started arriving at these abstract forms that spoke this sinuous, organic language. They just lived in my sketchbook for months. I had no plans for them until I was in a ceramics class where I found that clay really lent itself to sculpting these forms in the physical.
Around this time, a friend had given me a silver casting demo, which inspired me to sculpt a couple of chunky pendants. I had them cast in silver by a local foundry in Providence, and when I got them back I knew there was something there that I wanted to continue exploring. They felt robust, grounding to hold, and very much my own. A couple of close friends encouraged me to try selling these first two designs, the Animo and the Sunburst Pendants. I sold a few dozen through Instagram.
Nothing crazy, but it motivated me to design my first collection back in February of 2022. The name, California Dirt, was my personal Instagram handle for a couple years before all of this. I loved how untraditional it sounded for something jewelry-related. Somehow it also felt fitting since this project came to fruition once I moved home, and it was born through the hands-on use of clay, a key ingredient in dirt and soil.
How has living in LA influenced your art and jewelry?
Growing up here I spent a ton of time outside - exploring the coast, tidepooling, hiking and trail running in the Santa Monica Mountains, and now surfing. I think California Dirt speaks a surreal yet elemental, sort of sun-worshiping
language that is born from my relationship to the landscape here. I think as such a hub of fashion and industry, LA is also a great sort of cultural sounding board for young brands looking to gauge interest and get off the ground.
Tell us a little about the process of completing a piece from start to finish? Are you involved throughout the entire process?
Pretty much every piece begins with a sketch that I arrive at through automatic drawing, the intuitive drawing method I mentioned earlier. I sketch every night before bed, sometimes with jewelry in mind, but sometimes just to unwind and doze off. It's become sort of a nightly ritual. When it comes time to design, I'll flip back through old sketchbooks to see what catches my eye. Once I have a sketch or a direction that feels right, I sculpt it out of jewelers' wax using a few simple hand tools. Sometimes I draw something and sculpt it right away, others I'll sit on a design for a while and draw it over and over again. When my wax models are ready, this is when I hand the rest of the process over to my casting house. From here, they'll cast the wax models in metal and create silicone molds so we can make multiples using injected wax. They then produce my pieces using a process called lost wax casting, where molten metal melts away and takes the form of the injected wax pieces made from the molds. Once cast, the pieces are cleaned, polished, assembled, and complete.
For almost the first year I was polishing
and assembling all of my jewelry. Everything got a lot easier when I started working with my casting house. It's the first time I've ever outsourced my artwork, which felt a bit strange at first, but it freed up a lot of time and space to invest in other parts of the project. The craftspeople and artisans making the work are invaluable to California Dirt, I couldn't do this without them.
Looks like you've got a fun mix of boards around the apartment. Did you grow up surfing?
This quiver in here mostly belongs to my boyfriend, Bubby. That's my blue Bing in the bedroom. I actually just started surfing a few years ago. Sometimes I kick myself for not starting as a kid, but I was really intimidated by the ocean for most of my life. I'm just happy to get out on the water whenever I can.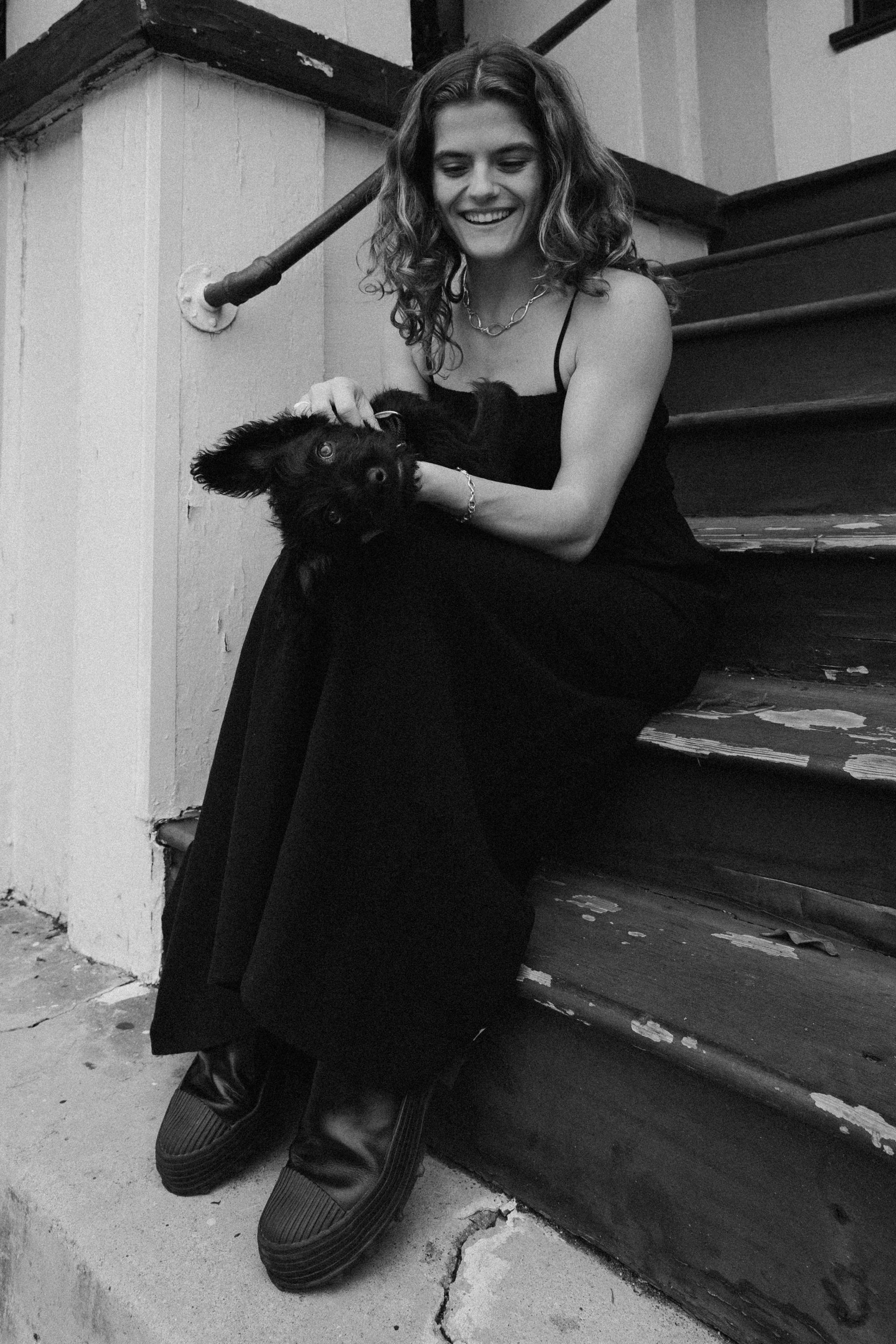 How's it been working and filling orders with the new pup running around?
Life and work have honestly looked a lot different since Opal came into the picture. I had been wanting a dog for a while. She's my baby and she adds so much to my life. I knew what I was getting myself into, but it's definitely a balancing act that I'm still learning to navigate. Opal won't be a puppy forever - everyday gets easier. Time is flying, and I'm trying to be present and bond with her as much as possible. Thankfully she naps a ton, which is when I get the most work done.
The other day I was sculpting some new designs in wax while Opal slept next to me on the couch. I stepped away for a second, and I came back to find her awake and chewing up my wax models, which she then swallowed. I just had to laugh - guess those weren't meant to be.
Who would you be most excited about seeing wearing one of your pieces?
Oh, this is a fun question. I would love to get into more custom, one-off designs at some point in the future. Off the top of my head, it would be a huge compliment to see Rhianna, Neri Oxman, Dua Lipa, or Maria Zordoya in California Dirt someday.
Any advice for anyone looking to start their own business and pursue a creative passion?
Something my dad has said for years is that perfect is the evil of good. It took me a while to understand this in practice, but it makes more and more sense everyday. This isn't to say compromise your standards
or your vision, but I'm always learning and relearning not to overthink the little things as you go. If you are balancing art and business, you're going to have a lot of decisions to make day to day. I think it's important to know
when it's time to share what you've created, take a step back, or move on to the next thing. I try to regularly zoom in and zoom out, but never get too hung up on one detail. Sharing your work can be vulnerable and
intimidating, especially when you are inviting people to pay for it. You'll know in your gut when something is there and ready to show. It's okay if it's not perfect the first time around, that's why we iterate.
Sometimes I don't know the right next step, but you have to try things to learn and evolve. I seek out a lot of resources like podcasts and books to educate myself on how other people and brands do business, but at the end
of the day this project is an ongoing lesson in trusting my intuition. I recently scrapped a whole spring collection that I spent months on because it just didn't feel right, it wasn't coming naturally.
On another note, I want to mention I moved back in with my parents for a year after coming back to LA, and they helped me cover some overhead costs earlier on in the project, like my first order at the casting house.
I haven't done this completely on my own - it was a major privilege to receive that type of support in the beginning. I know everyone's situation is different, so I want to be transparent about that if I'm offering any advice
on getting started.

Lastly, where can people find your jewelry and anything we should keep an eye out for in 2023?
You can find everything on my website - californiadirt.xyz. And yes, some new designs are on the horizon. I'll be releasing California Dirt's first collection of rings later this spring, and then a collection using gemstones
sometime late summer or early fall, so be on the lookout for those.