In Conversation: Felix Gänsicke
We welcome photographer by trade, family man and long-standing friend of the brand Felix Gansicke to our Journal. Felix and his partner have been visiting regions around the globe for over A decade now, specifically Western Europe. As they set off on their most recent trip at the end of 2021, the excitement to revisit a list of their best-kept secret spots was soon to be hindered. Once remote areas, now shared through accommodation apps so frequented that camping sites/ parking lots are enforcing bans on vehicles over 2 metres to avoid being overcrowded. Read on to discover how Felix feels about the shift in post-Covid remote living. Pre-Covid seems like a lifetime ago when it was possible to curate a list of best-kept secret spots, roads less travelled, and have it remain that way. Felix digresses with us about how he feels about this shift, and we encourage you to share your thoughts in the comments.
Photographs by Felix Gänsicke
Interview by Dani Alexander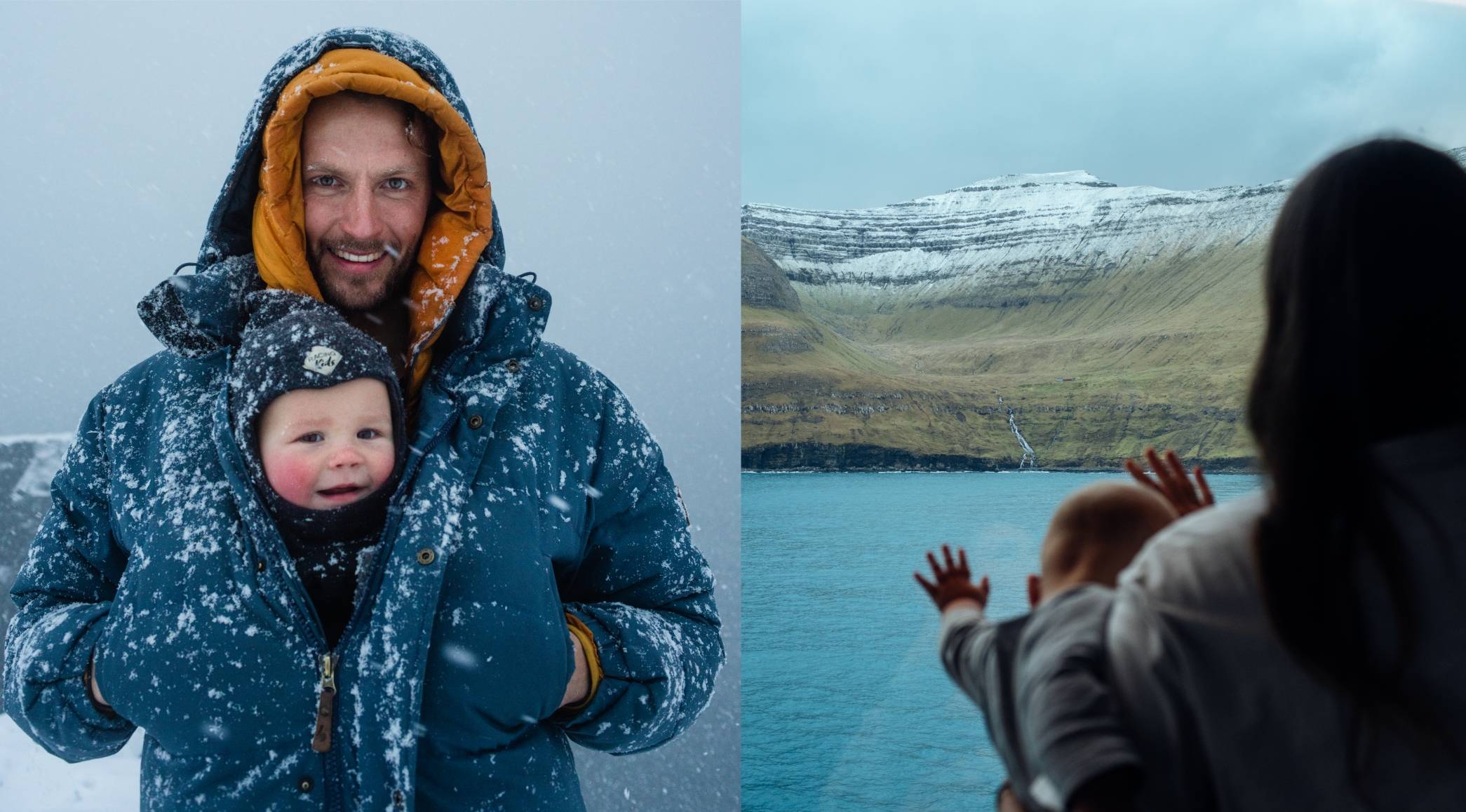 ---
6 months on the road with your partner, one year old and all - job well done! Your most recent travels took you to the Southwest of Europe, and also landed you in Iceland. We know the Northern Lights aren't always guaranteed, even during their winter. Was this your first time seeing them?
To be honest, this has been a journey of a lifetime and I don't really know if I will ever be happier in my life again. But really I don't even need to. If it just stays at this level I am grateful haha. Seeing the northern lights together with my recent married girlfriend aka wife has been definitely one of the main highlights of the trip (I've seen them once very lightly in Scotland before though). We were soooo lucky. Almost every night we were greeted by green wavering pillows and lines on the night sky. It was really mesmerising and we never got tired of standing in the cold watching them for hours. And all of a sudden they disappeared.

Though I'm sure testing at times, your little one seems to have taken to the snow. You must be stoked to have experienced travel in a new way with him by your side. Can you share a little about your highlight moments?
Travelling with a baby less than a year old was completely new man's land for us obviously and we took every challenge as we would have taken it without him. Preparation is pretty much key for a trip to Iceland in January but we decided to go there kind of last-minute so we really had to rush to gather enough and sufficient clothing for us and the baby. But I feel like we did a really good job. He was able to enjoy the snow in multiple layers of baby snow suits and as he is a really fun human anyways he enjoyed it to the fullest.
It was tough though being trapped in our little camper for the long nights and also most of the days when driving around. But being able to jump to a local hot pool anywhere made up for any sacrifice easily!!! Soooo good for body and soul to chill in warm water while your hair freezes to ice.
It has come to our attention that travel, specifically foot traffic through Western Europe, has completely changed since remote work saw a huge rise post Covid. Tell us, how did this impact your experiences this time around?
It's a difficult topic as we are more than obvious a huge part of this camper travel boom. We started roaming Europe more than 10 years ago and can not really blame anyone for doing so too. But with the rising numbers of campers on the road, the pressure on local ecosystems is rising just as much. Local parking lots are being closed for vehicles higher than 2m and surf spots end up being annoyingly crowded. And that is purely the fault of quantity and behaviour of travellers. Forests are full of shit and toilet paper, local beach showers are used with shampoo and soap, and trash cans are overflowing. I don't think it has to be that way though. If everyone acted carefully and responsibly I don't think we would have those problems. There is so much peace and joy in travelling in a van over borders and through different languages. We have to start diversifying in the territories we go to I feel like. Obviously, the Atlantic Ocean is the go-to destination for surfing in Europe. But there are so many more seas here that have surf. Maybe everyone should start discovering a little more again. Also your own home. We live on the Baltic Sea which offers almost no option for surfing but we still get to surf every two weeks or so. Only wind swell and only with a chop but it's still worth it and you don't have to travel far and can still spend a night in your van.
"We started roaming Europe more than 10 years ago and cannot really blame anyone for doing so too. But with the rising numbers of campers on the road, the pressure on local ecosystems is rising just as much."
It almost feels wrong bringing more attention to the areas through this interview, places that were once the best-kept secret now available on camping sites and apps. Do you predict any changes as we move forward?
I know. But what can you do? Secrets are no secrets anymore. We need to find new ones. And of course, some are still kept preciously but even those will eventually be public at some point. I do think that this kind of tourism is on a high now and will slow down pretty soon again though. Covid played a huge role. Nobody wanted to fly and everybody wanted to travel in Europe. So the European coasts and beauties ended up super full and everyone local was super pissed. Let's please never have that again!

One more question for the road. We thoroughly enjoy living through the lens of your adventures - where to next on the map for you and the family?
Thank you very much! I am pretty much bound to my home for the next couple of months but plan to go to Greenland in August for documentation, and I am currently working on another film project which means the world to me called 'Tasgaoudrar'. A short film half fiction half surf film about a young boy growing up in Morocco. I did it together with Ayoub Abouizza and the two twins Jose and Javier Postigo. We filmed in January 2021 during the full covid lockdown, and I am just finishing the edit. Can't wait to see it in film festivals and eventually someday to all of you on YouTube.