In the Studio: Thea Skelsey
Thea Skelsey is a Gold Coast based artist. Her practice is grounded in slow and sustainably minded concepts and materials that seek to bring a sense of ease through shape, colour and application. Thea kindly sat down with us to talk more about her practice, what it means to be a full time artist and how she sees her work developing into the new year.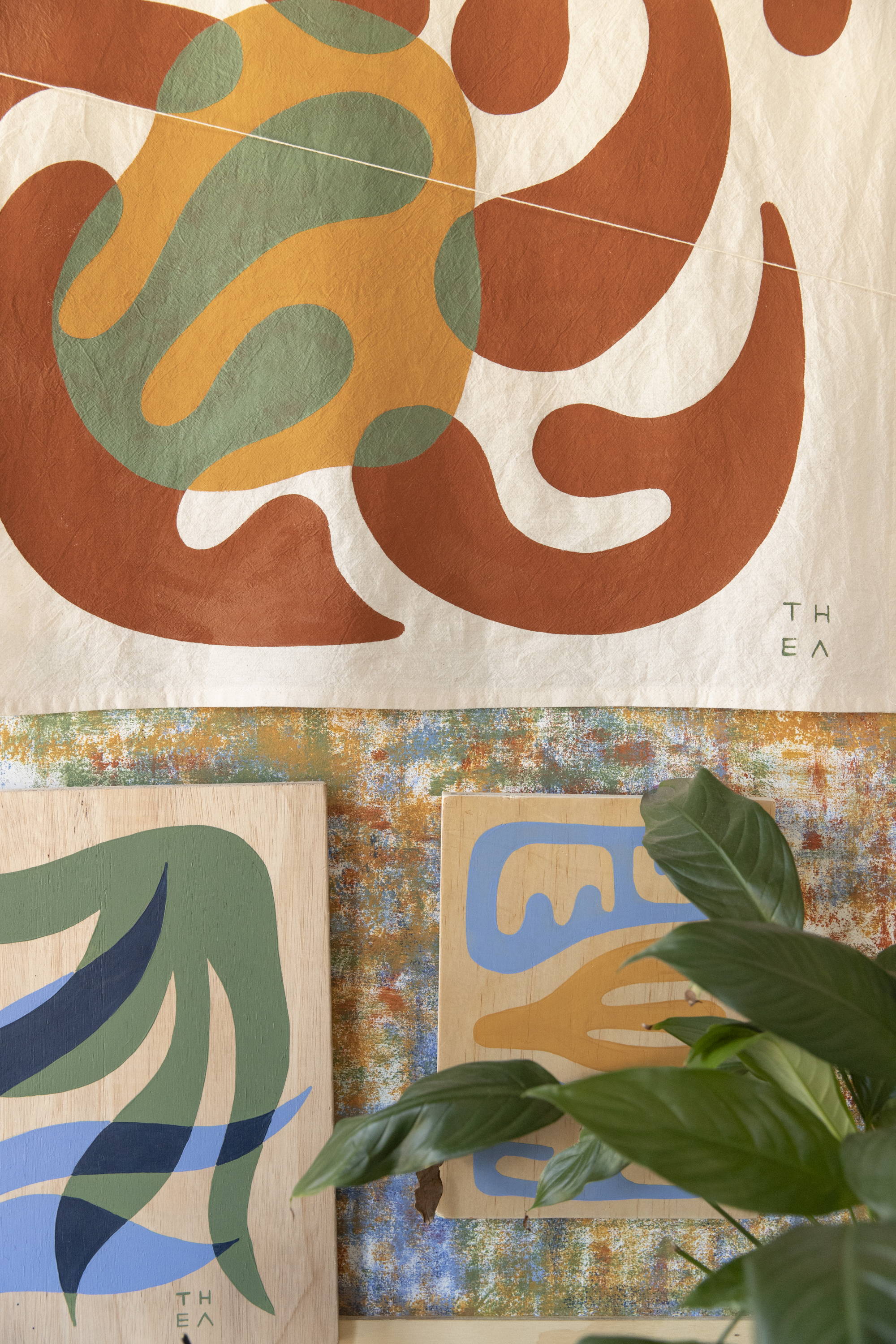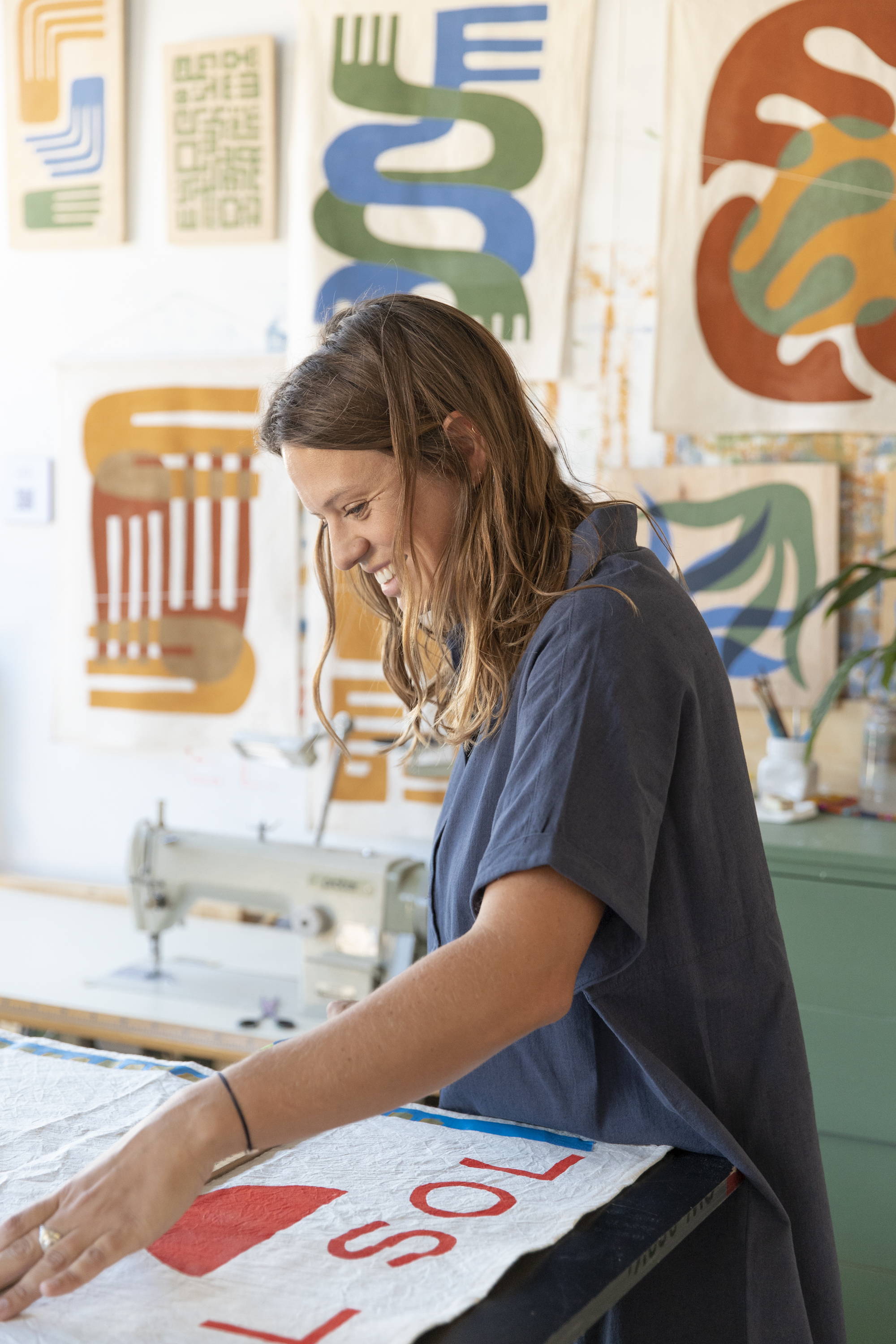 R: Could you briefly outline your artistic background, and how this brought you to painting – what has been your creative journey so far?
T: I was always a creative child, I loved making from a young age. It was hard not to be influenced by my mother who would make everything we needed from school uniforms to desks, herself. My creativity lead me into graphic design after high school and with a bachelor of design, I worked in the industry on and off for 5 years between long trips overseas.  
My painting journey began when living in Amsterdam in 2016. I worked afternoons, so would fill my cold, rainy days making art for myself and for friends. On arriving back in Australia, I moonlight painted for a year, ran back overseas, painted some murals, and returned to finally admit design wasn't working for me. With the encouragement of amazing people around me, I took the leap and have been a full-time artist since 2019.
I still dabble in design, I use those skills in my own business everyday, but I only take jobs that are after the style of my artwork these days.
R: Takes a lot of courage to leave the stability of full time work to pivot towards a more freelance passion … how have you found the transition?
T:The initial feeling of pure freedom lasted about 2 months before realising that if I'm not doing anything productive, then nothing productive happens. Then the weight of becoming every part of my brand set in; from ideation, marketing, social media, accounting, studio manager, and then having time to create as well.
The evolution is ongoing. It was an important lesson to find out how I best work whether it be early mornings or afternoons, or a surf on my lunch break between a full day of making. Once I settled in a little, I was able explore what being an artist meant to me. What goals did I want to achieve, how was I going to expand my audience? Coming from design, I know a little bit about the marketing side, but mostly I've been winging it from day one. The creative part comes very easily, it's everything else involved in running/being my own business that I'm constantly grappling with.
The best thing about working for myself, is that every new skill I learn, or hot tip I pick up is implemented straight back into a business I am in love with. The hunger to learn more and to do better never stops. Plus the struggle is totally worth the lunch time surf breaks.
R: From start to finish, what is the process of actually creating one of your paintings - tell us a little more about why you use the materials you do?
T: My process begins with a sketch book or iPad. An idea will come to me and I'll have to work it out, adding and subtracting shapes until it feels right. This may take 2 minutes, or i may have to come back to it over again for 2 months.
Once the concept feels right, I decide on a size and create the 'flag' to suit. I cut, sew and hang every piece myself in my studio in Mint Art House.
The idea of painting onto material, as apposed to the traditional canvas, came from my time traveling. Making art for friends, I wanted it to be easy to hang, easy to fold and take to the next place. For this reason, acrylic is my paint of choice. It's quick to dry and doesn't smudge. The flags originally had raw edges, they were painted on material found at charity stores. Now days you receive a neatly hemmed, ready to hang artwork. Recently, I've started painting onto remnant ply from a van-fit out company (forever finding new methods of sustainability). This allows each piece, again, to be hung straight onto the wall. No framing necessary. Art should be easy.
Do you have any key references or inspirations that you're drawing on in your latest works?
My latest collection, Mammalian, draws from the natural world. Organic, ever-changing shapes intertwining to create beauty, relatively random on their own. I've enjoyed the freedom of painting freehand, as apposed to the measured style of my past collections. Previously I've taken a lot from my overseas adventures; usually awkward encounters that loop in my brain until they are released, somewhat camouflaged, in their design. There is also an obvious influence from my seaside home in a large amount of works.
What does art-making mean to you, and what do you hope to communicate through your work?
From the beginning, my painting has brought me a sense of ease. You can't rush painting onto fabric, the absorbent quality of cotton means working slowly with a steady, patient hand. This is what I wish to translate to the viewer, a sense of ease: slow the mind, the eyes, take time to register what you are looking at, how you feel looking at it.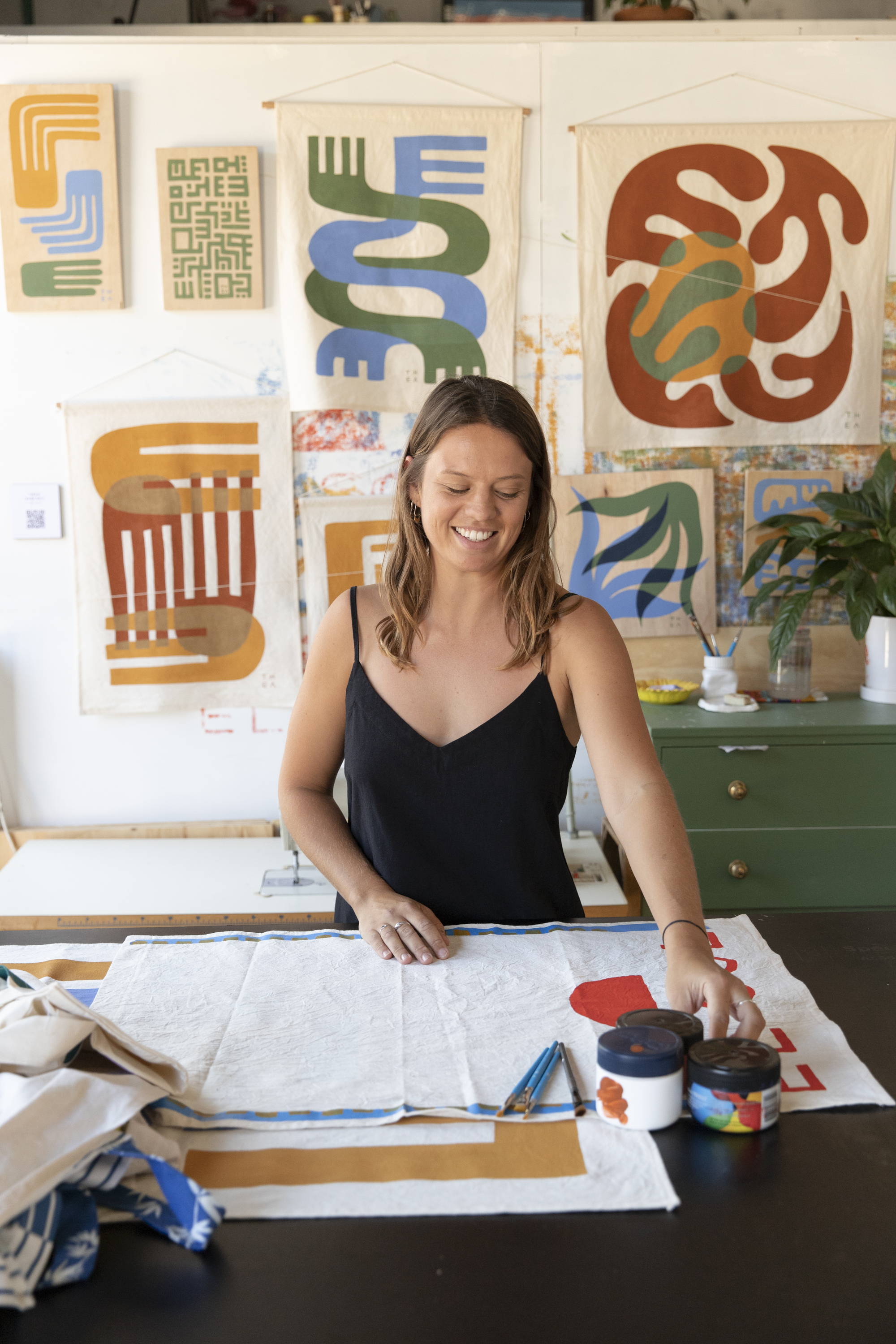 "You can't rush painting onto fabric, the absorbent quality of cotton means working slowly with a steady, patient hand. This is what I wish to translate to the viewer, a sense of ease: slow the mind, the eyes, take time to register what you are looking at, how you feel looking at it."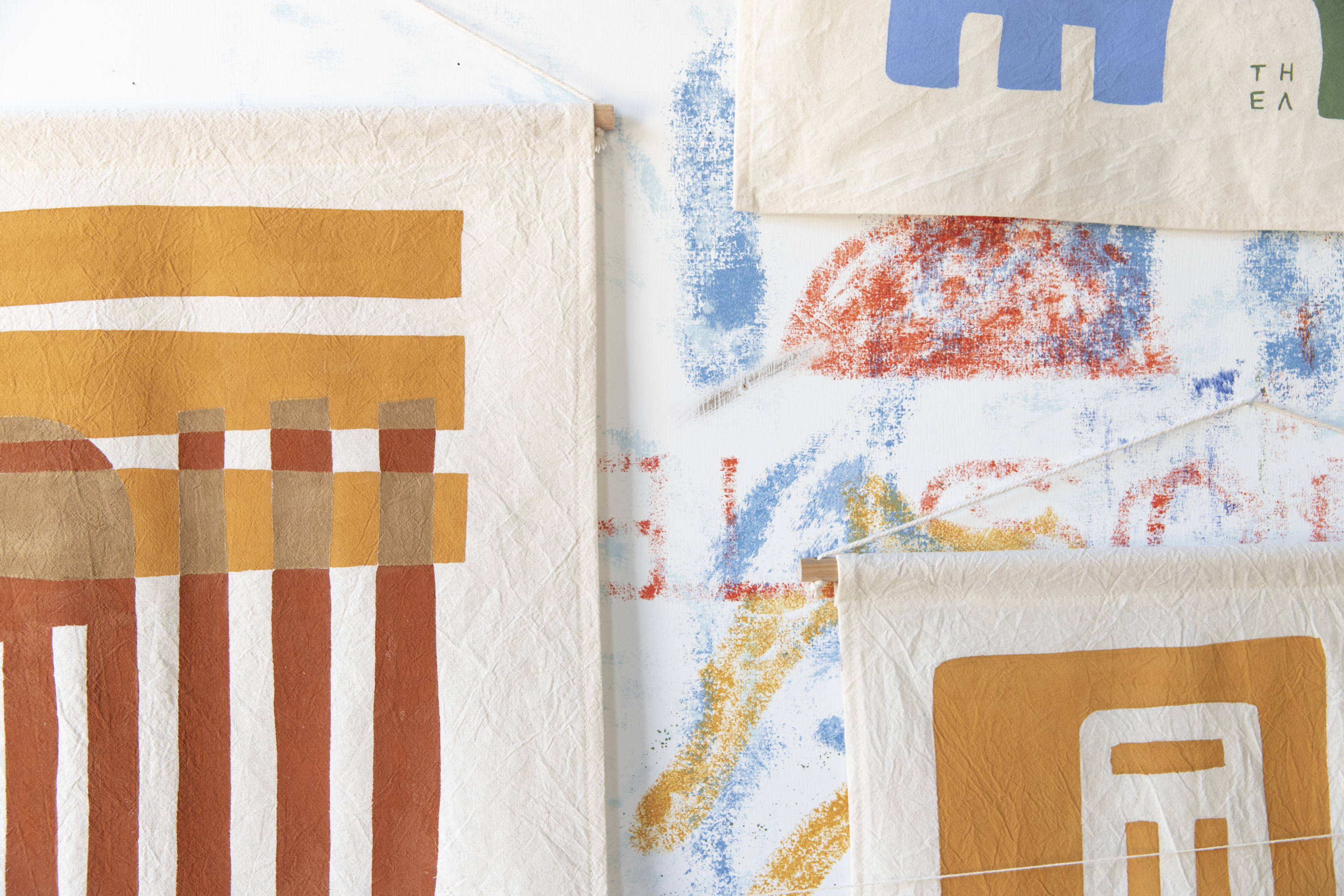 What advice would you give to a fresh faced 18yr old Thea?
I would tell her (and still struggle to tell myself now) not to stress so much. To feel ambition and drive, but to let go of the feeling of not being good enough, or not feeling on the right path. Like one of those corny quotes that says 'Enjoy the now, or you'll spend all your time fretting over the future'. I'd love to tell her that all of the weird experiences she has to sit through over the next .. six years are going to make for some great stories and great art, she'd be stoked.
What does 2022 Look like for Thea Skelsey?
I'm excited for more collaboration and partnership opportunities in 2022. I have witnessed how these dynamics bring me so much joy. From public murals in cafes to streets, to clothing collaborations, to brand partnerships, to product development ideas, Thea Skelsey Art will be moving on to new forms!